I haven't ridden a bike in Australia in over a decade.  And I was sort of off the grid, mainly riding off-road on MTB when I was there.  So, I've never personally experienced any problems while riding my bike there. But, they obviously have some very serious problems.
Over the last couple years, I been noticing how many road rage problems that seem to be reported from Australia.  Guys getting run over intentionally in Sydney.   In the article link, this is some of the social media after a rider gets hit.
The retribution was as vicious as it was swift – towards the injured cyclists, that is. That afternoon, as soon as news of the crash was broadcast, Facebook was abuzz. "Sucked in," wrote Dixon on a motoring Facebook page. "I see these cyclists riding every Saturday and Sunday and was wondering when they'd get hit." Luke, of Newcastle, boasted: "I swerve to hit cyclists." Nick reckoned it was a great shot: "Got seven in one hit." Normie stated he will "never give way to a bicycle rider, I really don't care what the law state, you have no rights in my book, and if you are in my way I will definitely give you a helping hand… stay the f..k off our road you leotard wearing faggots."
Anyway, I was talking to Pat and Gwen before they were heading to Australia for three months to train, before they move to Spain.  Pat was saying it is super sketchy riding there.  So, bad, that they normally train on a closed criterium course.  And that Gwen was getting a new track bike so she can train on the track.  I was thinking, "Holly shit, a triathlete training on the track. Why?"  I've hardly ever, (I've never) trained on the track.  Pat said there were a few reasons.  Speed work, leg speed, motorpacing.  But he also mentioned safety.  I thought to myself that it must be worse than I'd imagined, riding on the open roads, because Pat is a very good rider and he says it is dangerous.
Then I saw this article about how the "real media", a TV show in Australia, The Family Feud, Australia version, asked a pretty inappropriate question, ATMO.  The question was, "What is something annoying that a cyclist might do? 
And the answers are –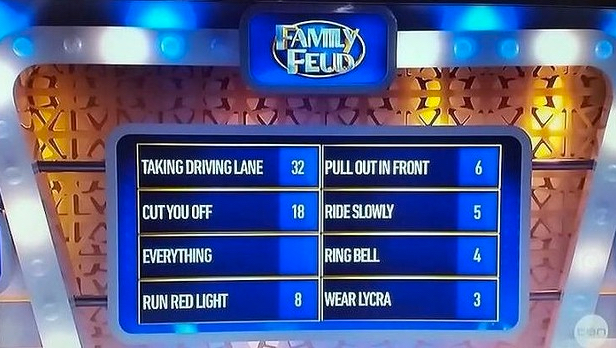 These answers are from 100 Australians that were asked the question.  I guess they had to answer something?  Well, they really didn't, but they did.  I especially like answer number 3, everything.  That pretty much sums it up.  But the last two are kind of annoying also.   Just putting the question on the show wouldn't work here in the US.  But, obviously they have a more generally accepted hatred towards cyclists in Australia than we do here.  At least publicly.  Here's a link to an article reporting the story.
It's too bad.  I have been considering going back to Australia sometime in the future, especially now that the US dollar gaining strength to the Australian.  But riding a bike is a must pretty much everywhere I go.  The Great Barrier Reef is beyond cool, but I've already been there.  Until they figure out their issues concerning cyclist,  I guess Australia is off the holiday list.