There is a report that Chris Horner has officially signed a contract for next season.  But, his agent, ex-pro rider Baden Cooke isn't releasing the name of the team.
I'm not sure what that is all about.  Maybe a big launching press conference or something.  You'd think that it would be a  little anticlimactic considering how last minute it is.
I'm not sure why Chris is having so much trouble holding a job on the Pro Tour level.  Obviously, by his results, he is in the top 5% of ability of the pro peleton.    His agent, Baden Cooke, said recently that "It's age discrimination."
I think it is a bigger issue than just that.  His results are out of this world.  I think that might be more of the reason.   I think Trek would have kept him if there wasn't some underlying issue going on with him.  But, it hasn't really kept other riders of the same ability and circumstances from getting jobs at the Pro Tour level, so maybe Baden is right.
Last year, after winning the Vuelta, and having the same problem, Chris said to Velonews that-
Remember, I can do masters 40-plus races. Maybe I'll win a masters world championship like that or something.
Chris won't have to be racing master's again for another year, at least.
We'll see where he settles, but, we'll have to hold our breath for a few days to find out.
Where do you think he will land?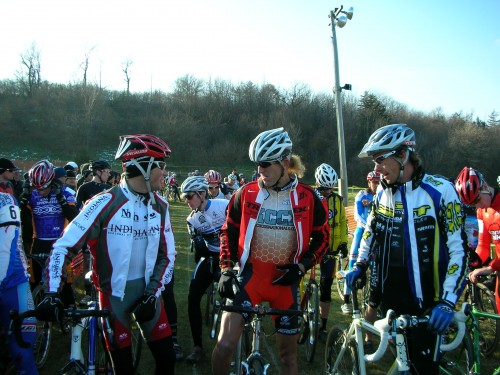 I figured Chris would start a 'cross season if he didn't find a road contract soon.
Chris, me and Todd Wells at Jingle Cross a while back.