I've done a ton of organized rides all over the world.  Most bigger cities here in the US have their Tuesday night "World Championships" and such.  But, the Saturday morning Rocket Ride in Kenmore, Washington tops the list as the continuously fastest group "training ride" I've ever done.
I'd run into Todd Herriott, czar of HSP, Herriott Sports Performance,  and he said I should head over to Log Boom Park, in Kenmore, right on the North end of Lake Washigton,  on Saturday, for a brisk ride.
Maybe Todd doesn't know the definition of brisk, but  my definition of brisk, isn't his.  The phrase he should have said is "a super fast training race".    I wasn't really mentally prepared for it when we took off.
Keith, Catherine and I got on our bikes around 7 am and headed North.  We stopped and got some coffee at the Freemont Coffee Company and then got on the Burke-Gilman trail that goes straight up to Log Boom Park.  It was a little longer than I'd anticipated and we had to ride pretty quick to get there just at 9.  There were a couple large groups of riders meeting at the same time.
I went over to use the restroom, Catherine did too, and when we came out, the Rocket Ride had already departed.  Keith had waited and I did a little time trial to catch us back up.  They got stuck at the first light, if not, I probably would have missed the whole experience.
When we got back on, Catherine instantly rode up and planted herself in pretty good position towards the front, maybe 8-10 riders back.  Keith and I were at the tailend, I just kind of getting an overview of the composition of the group.  There were probably around 50 guys, nearly all looking like "real bike racers".
Not very far into the ride, there was a pretty good sized hill ahead.  I was still at the back and when we started up the hill, someone jumped pretty hard at the front.  I could see that it looked like a race at the front, but I thought someone was just screwing  around.  But, no, it wasn't anyone just messing around, it was pretty much game on.  I hesitated, still thinking I was missing something.  That was until I saw Catherine completely explode and start drifting back like a rock.
I didn't blame her, she was in the same boat as most of the group.  It was carnage.  I started moving up and didn't get a chance to give Catherine a push.  I couldn't tell how long the hill was and didn't have the energy to keep her on.
And that was a good thing, because the hill just kept going.  It was another surprise.  I don't know how long the first climb was, but it was probably between a mile and two.  By the time were at the top, there were maybe 15 guys left.   And the attacks were constant.   I had that bad blood taste in my lungs, and it was just the start.
And that is how it went for the next two hours.  A group of somewhere between 10-20 guys just hammering.  I had no idea where the ride went, so I was kind of just hanging back.  I took a few pulls when we seemed to be heading on the same road.
There were a ton of weird turns, cut-offs through parks etc., early on, so I was a bit apprehensive about sitting on the front.  Plus there was a surprising amount of elevation gain.  Every hill we hit, someone would take off like it was the finish of a race.  I was in denial most of the ride.
I can't do the whole play-by -play, but it was consistently fast the whole way.  There was a bunch of speed changes at the front.  We'd be in a single echelon and would be going 26mph, then 31, then 28.  I don't really have that in my quiver right now, so it was hurting me.
And I was hurt.  Not really hurt enough to think I was ever going to get shelled or anything, but hurt enough that I wanted to have more form so I could just shell these guys once and for all and then get back to a normal Saturday morning ride.  But, that was never going to happen.
So, we rode close to 2 hours at pretty much race pace.  We got stopped at a bunch of stop lights and we just sat there nicely and waited for the light to change green.  But you needed to be ready for that, because it was game on just about when you got your foot clipped in.
It seemed like we were getting towards the end, when we got stopped by another like light.  I asked this guy, named Steve, if that was the end.  He chuckled and said no.  He said a few more rollers and a climb.
We keep going pretty good, but it seemed like everyone was running out of juice.  Guys had been getting popped the last few miles on the short hills.  There were probably 10 guys left, then a couple more got dropped right towards the end..
I didn't know where the finish was.  After the fact, I would have thought that someone would have told me where they sprint, but no one was really talking much the whole day.  It was sort of weird in that respect.
We went over the top of a short hill and there was a steep descent, kicking up to a steep roller.  A couple guys took off and I realized, too late, that there was a stop ahead sign at the top.  They looked like they were going full out, but it was too late for me to catch them, so I just cruised up the last climb.  There were 8 of us left.
I was sort of hurt at the end.  I had nearly 20 miles there, plus I was freezing the whole day.  I'd taken off my knee warmers at the start, thinking it was going to warm up some.  It only got colder.  My hands were freezing too.  I'd say half my being semi-wasted was from the cold and the other half was from the effort.  An unexpected effort.
I am pretty sure that is how it goes every Saturday.  I kind of said, under my breathe, something like , "that was pretty hard". The guy next to me said that there were only Cat. 1's left.
No one seemed like anything was out of the usual.   When I downloaded my Garmin to Strava, I had the 7th fastest 2014 Rocket Ride time, so, it was okay fast, even for them.  If we hadn't got stopped at so many long lights, we would have been a few minutes faster.
We rolled to a Starbucks and all stopped and got coffee.  Everyone was super friendly then.  Just a normal Saturday bike ride.
After coffee, we rolled back to the park and then I headed the hour back to Seattle.  Keith and Catherine had gotten lost, so they had turned around and rode back earlier.  They had nearly 50 miles, so it wasn't a waste.  I had 84 at the end.  It was a much harder 80 miles than the Nosco Ride just 5 days earlier.
It was the hardest I'd ridden since I broke my hip at the end of May.  Harder than Chequamegon, but maybe I was more "race fit" then.  It was the fastest I've ridden on a road bike for the last 5 months, for sure.
So, if you're ever in the Seattle area and want to get hammered on Saturday, you know where to go.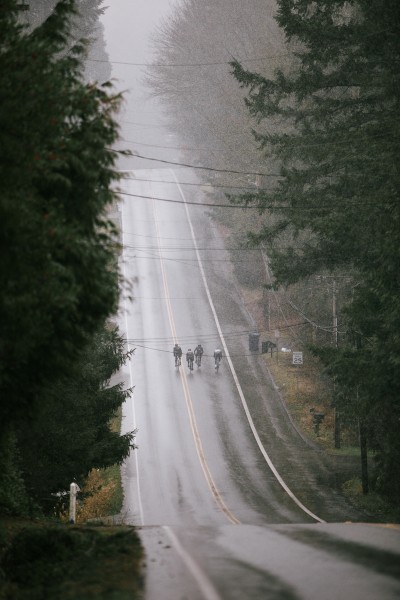 This is the finish hill.  I grabbed the photo off Abdy Bokanev's website.  He has a little photo expose on the ride here.
I rode the Burke-Gilman Trail both ways to the ride.  It was pretty direct and nice.  There were a ton of people using it down by the University.