Last weekend, I kind of just limped around friends as they did fun stuff around the state of Colorado. I ended up in Winter Park at the Colorado Freeride Festival. I thought I was just going up there to watch Bill and Vincent race an x-country MTB race from Frazier to Winter Park. Little did I know that there was a leg of the Enduro World Series being held, along with a ton of other stuff.
I realized when we got there, right around 7 am, that the race venue was way bigger than a local MTB race. There were way too many team support and factory trucks for a local event. The venue was sort of abandoned before 8 am, then guys started rolling by. I went over to a Redbull tent and they were starting a morning session of the enduro. Virtually all the guys there were speaking a foreign language. That is when I figured out that the race was big.
There are two events of the Enduro World Series held in North America. In Winter Park last weekend, and then in British Columbia in August. I really didn't get to see any of the racing, it was all up on the mountain and definitely not accessable by a gimp like me.
Pretty soon, people started showing up. I knew a lot of guys there. I saw Scott Daubert, from Trek, Steve Blick, Oakley, Joe Parkin, Bike Magazine, Brad Cole, Niner, and a ton more. One of my favorite guys I ran into was Jesse Gascon, from Shimano. I hardly ever see Jesse anymore. He used to travel the MTB circuit when that was my full time gig, but now I think he's flying back and forth to Asia more than attending races. It was nice catching up a little.
The best part of the day for me was watching those guys on Slopestyle. That sport is insane. I have no idea how you get to the point of being able to ride that course, but it would take me years to get to the point of just going down it, let alone throwing tricks off the jumps. It was amazing. Check out the video at the bottom of the page. It is from Martin Söderström, who finished 2nd. Nuts.
I realized how little I know about these aspects of the sport. I couldn't even tell you which event a rider was competing in by looking at their bikes. That is disturbing to me. Really far removed. Most of the guys I listed above were at the event just checking it out, not working in a official capacity. They were just trying to get a read on what the sport is all about and where it might be heading. It didn't have the vibe of a 90's World Cup, but it was much better than any x-country race I've been to in the US the last decade.
Anyway, Vincent won the expert class of the x-country. Bill finished 11th, which was pretty good considering the altitude. Brian ended up 14th at Mt. Evans, riding 1:56, so that was a good race for him. He and Bill should be acclimated for Leadville in two weeks. Don Sutton finished Mt. Evan in 2:18 or so. Pretty good ride too.
I did get to ride 35 miles on Sunday with Bill and Vincent. My hip is feeling all weird, so I'm going to try to get a x-ray done today to put my mind at ease. I have to take my Insight over to downtown Denver to get a new IMA battery put in. I'm excited to see how much different it drives.
Lisa, Vincent's wife, is 9 months pregnant, so she is due any day. She actually asked me yesterday to start my timer on my phone. I didn't have any idea what she was timing until I looked over. She was timing contractions. They headed over to the hospital, but it was a false alarm. But, anytime now.
I'm going to head up to Steamboat Springs to hang with Kent Eriksen and Katie, either later today, or tomorrow. Kind of depends on the car and hip deal. They just rode the Laramie Enduro on Saturday. They rode a tandem, and won, of course. Kent is the most amazing athlete for a guy that doesn't ride nearly as much as he'd like. I think he has less than 500 miles for the year, and that might be really generous. Katie must be fit and made up for his form.
The Tour? It's over. I can't say I really am going to miss it. I wasn't that into it this year. I'm not sure why. Too many guys falling down I think. Whatever the reason, I didn't wake up this morning missing the race like I have previous years.
Trudi drove to Park City yesterday and had dinner with Cadel Evans. He's here just for Tour of Utah, not the Pro Challenge. I think he has been at altitude for a week, so I bet he rides pretty good in Utah. Trudi said he was super relaxed and very entertaining last night. Cadel can get pretty intense. I think he rides better when he is relaxed and carefree. Don't we all.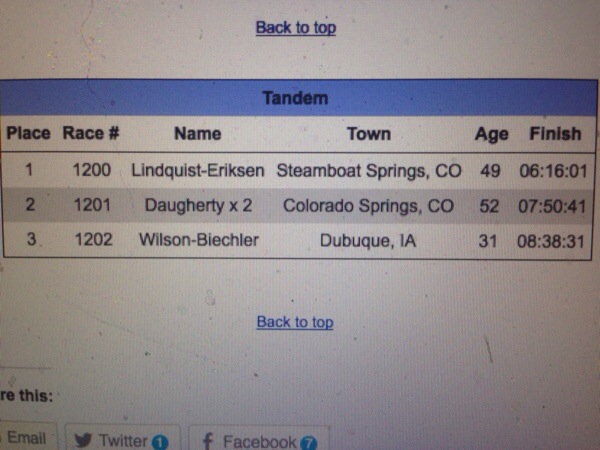 Tandem results. Pretty long time on the bike.