Yesterday was not the normal after the race ride/rest/training day. The weather was coming in and I wanted to get out and ride. But, just leaving, my bike wouldn't shift. Pushing the right lever shows 5 flashing red lights, meaning, I think, a dead battery. So, I turned around and went back to try to charge it just a little. But, that didn't work.
Sue hadn't ridden the day before and was antsy to ride, so I decided to just head out with her anyway. I was stuck in a 39 x 17, which you'd think would be good, but it really was a little too easy. We were just doing a lap of White Rock Lake, just 30 miles, but by the time we got down to the lake, it was sort of raining. The system was off to the west, so I decided we should head a little east to try to stay away from the lightening. It was getting close to the bad traffic time in Dallas, after 3, but the quickest way back was on Garland, which is a diagonal up towards Richardson.
Anyway, it didn't work. Pretty soon it was down pouring. But, worse, lightening. Like everywhere. I'm kind of a hard guy to scare and I intellectually understand how little a chance there is to be struck by lightening, but it was still scary. Plus, the traffic was terrible.
We ended up riding just 30 minutes in this and made it back frozen. It is so funny how one minute, I can be riding in a cut-off sleeve jersey and the next, completely frozen. And I forgot how stiff you get after riding in the cold rain.
So, I'm gonna be messin' with my Di2 today. The battery isn't charging at all. I guess I'm going to take the battery out of the seat tube and make sure it isn't grounded or something. I might take it over to Richardson Bike Mart and see if they have that diagnostic tool to check it out. It is weird, but other than a frame breaking, I've never been in a situation where my bike doesn't work and I can't really fix it, or maybe, don't know how to fix it. I guess as I get more familiar with the Di2 stuff, this will seem basis, but I haven't learned this yet.
Okay, I'd better get on it. There is a local training race I was hoping on doing tonight, if the weather holds and I can get my bike working. It is strange, but I feel a weird uneasiness with my bike dysfunctional.
Update-All good on the Di2 front. Kevin at RBM hooked up the diagnostic equipment and tracked it down to the battery. Shimano sent him out a new battery, so he just pulled one out of stock (how many shops in the country have an internal Di2 battery in stock). So, I'm good to roll.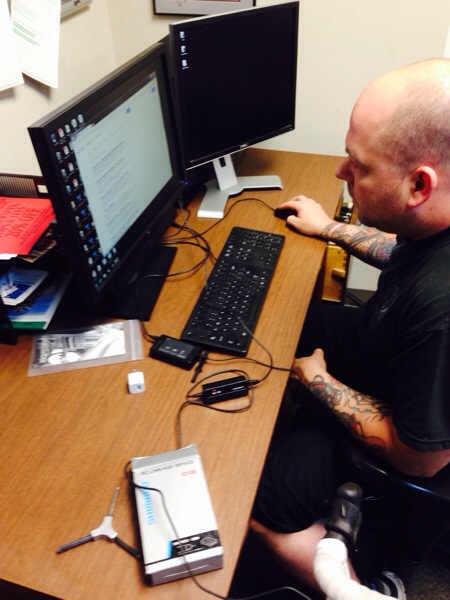 Kevin doing bench work with a computer.