I really haven't been watching any of the stage racing going on in the Southern Hemisphere live. I've seen a couple video clips of the winning moves from Australia and Argentine, plus have following the results on the web. It is funny how different guys are supposedly using different races to "prepare" for their main objectives, either the Tour or the Giro. Honestly, I'm not sure it matters what you're doing in the middle of January race-wise for a race 6 months later.
Back in the 80's and early 90's, everyone would just sit around and get fat over the winter. There was a race series on Sicily where everyone would go and get some early season race miles. But by early season race miles I mean fast training miles. Hardly anyone was anywhere close to fit enough to race, but racing is the quickest way to get fit for racing. The Tour of Americas started in the late 80's and the American guys would train hard for it. It was a race that started in Venezuela for a few days and fly up to Florida for the last week. All the best riders from around the world would come. Americans, and foreign riders on America teams, tended to dominate the podium because the European guys just weren't that fit yet. We'd do training camps in California, Texas, and Florida and be pretty much in race shape by early February.
Not the case now. Everyone is pretty much fit 24/7. The road season just keeps going and going. Maybe November and December are a little sparse of races, but guys seems to be doing long miles to get in shape for the January races.
I noticed that down in Argentina on Friday, the time trail results looked sort of wacky. I was mildly surprised that Taylor Phinney got beat by Adriano Malori. I was even more surprised that Nairo Quintana beat Phil Gaimon to take the overall lead. But the biggest surprise of the day was the results by all the "sprinters" in the race. Tom Boonen was 7th, followed in 8th by Danilo Hondo. Peter Sagan was 10th. Even Mark Cavendish was trying and finished 20th, which was ahead of a ton of guys vying for GC. What's up with that? I guess these guys are using the race for training and wanted to get in a good effort. Whatever the reason, they don't usually go out and race time trials during stage races when their times are nearly irrelevant. Strange.
The World Cup Cyclocross this morning was interesting. I only caught the last couple laps, and Tom Meeusen was the spoiler for Francis Mourey winning on home turf. Meeusen was the only Belgian in the top 5. But, 6th through 10th was all Belgians. I never saw Sven Nys the whole day. He must of quit or not started.
Okay, back to the whole digging on my knees Makes me all that much more appreciative of riding my bike.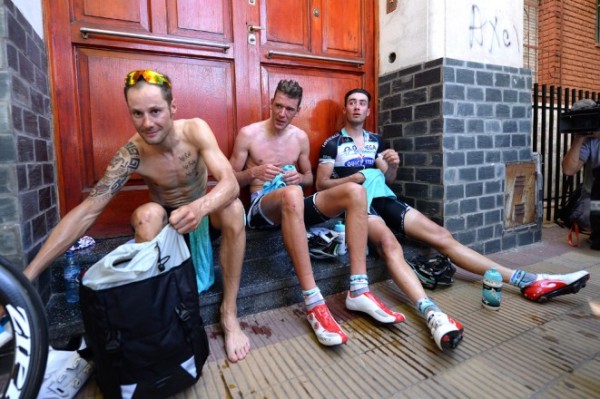 Tom Boonen and Company down in Argentina.
Photo Tim De Waele TDWsport.com