I read a tweet a couple days ago that said something like wasn't it about time that Steve Tilford did a rant about cyclocross nationals. I admit I rant some, but not for unnecessary reasons usually. I don't have a rant here. I do have an issue. I didn't like the decision to award The Cyclocross Nationals Championship to Boulder. Don't get me wrong, I think the promoters, venue and setting are great. Here's link to a Q & A article from Velonews with Pete Weber, course designer. My one complaint, before the race, is that the race is at altitude.
Most of you haven't raced at altitude much. I have. A ton. More than a ton. And let me tell you, it affects each rider differently. I know some of you are going to say that the race isn't that high, at only mile, 5280 feet. Believe me, that is enough to really change up your ability to perform.
I have to applaud USA Cycling for keeping the Cyclocross Nationals all at in the same city, on the same weekend. I really think that should be the way for all the National Championships. But since all categories race in Boulder, it seems a little unfair to some of the other classes, but not to the Elites. Elite racers should have the ability to schedule a couple weeks and prepare properly, to get used to the thin air. Not the case for juniors or Master's. And since cyclocross in the US is a participatory sport, and the majority of competitors at Nationals aren't Elite riders, then I have to question putting the event on at altitude. But, playing devil's advocate, I guess putting the race on in Madison, where it was pretty much guaranteed to be icy and slick, or for that matter, in Austin next year, where most likely it will be dry and somewhat warm, if not hot, is a disadvantage for the majority of riders too. But, altitude is something that is a little different. At least to me.
So, if you're planning on going out there and compete, and you are putting more of an emphasis on race placing than overall experience, my suggestion to you is that you is get out there as late as possible, like the day before. And ride super easy the day before. Then don't start too crazy hard. Once you get redlined at altitude, it takes so long to get composed again.
When Nationals were at the Colorado School of Mines, in Golden, in the 90's, I drove out to Colorado the day before. I rode two laps of the course, super easy, then went to Boulder to stay with my friend, Roy Knickman. I had a horrendous start, getting a pedal jammed into my front wheel at the first dismount, then having to hobble to the first pit. So, redlined at the start. I ended up finishing 2nd, but was awarded the Professional National Championship Jersey, which was the reason I was there, so it was all good.
My pick for Sunday is bases exclusively on who I think prepared best. And the most important preparation, I believe, is getting used to the thin air. So I'm picking Jeremy Powers. As far as I can tell, he's the only one of the top contenders that has been training high. I might be wrong here, though. I'm not sure if Jonathan Page flew back to the US and has been training at altitude in Utah. If he has, then I get him as a discretionary pick. I read that Ryan Trebon has been training in Southern California. He says he is flying in on Thursday. That is nearly the worst day for me. I'm usually the worst on the 5th day and it will only be the 4th for Ryan. Tim Johnson has been riding the canyons North of LA too. Unless he flew to Boulder right after his last ride on Strava, in my opinion, he's getting there too late.
So, the Nationals are officially on as of today. If you live anywhere near (or just Priceline a ticket) and haven't seen a big cyclocross, you should go out of your way to attend. Watching at altitude is not really an issue. And the watching in Boulder should be fantastic.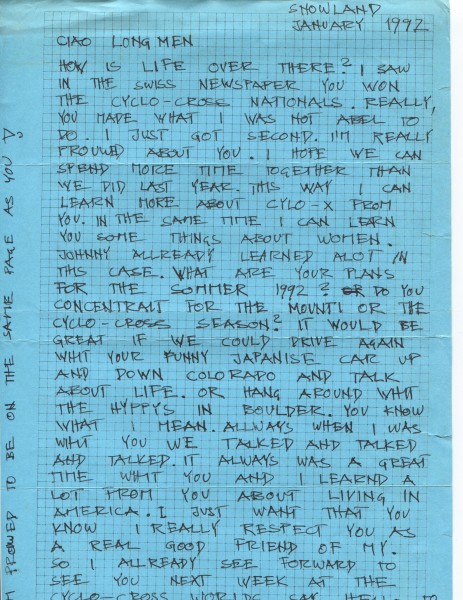 I was looking for a photo from the Nationals in Golden and saw this letter from Thomas Frischknecht. I didn't remember it. I remember once talking to Thomas and Henrik Djernis once about cross and Thomas said something like I did more cyclocross races before I was 10 than you'll do in your whole life. That might still be true. Thomas' father was an awesome cross racer. He finished 2nd in the World Champhionships something like 5 times. Thomas' career followed his father's, with a ton of 2nd place finishes at the Worlds. Then he figured out how to win kept doing just that. (You can click on the letter to enlarge.)