Johan Bruyneel has less than a week to get his paperwork in order to show that he is being persecuted unfairly and that he should be allowed to be involved in the sport of cycling. His arbitration hearing is scheduled to start on December 16 in London. Anyone want to make bets whether he shows up to defend himself against the charges?
I really don't see that happening. But, Johan is a peculiar dude, so it's not a given. I'm assuming that USADA has all their witnesses ready to testify, so I think that Johan is going to battling an uphill battle here.
Johan has been pretty invisible the last few months. He's tweeted a few choice thoughts and did an interview with Luxembourg television station RTL where he said, "Regardless of the outcome of the USADA investigation or any charges against me, I've made the decision that I'm pretty much done with cycling because I don't see a change."
I would love to hear the "change" that Johan would like to see happen that would make him reconsider his decision to NOT leave the sport. I can't think of a realistic one. But, it is not really an issue, because I think there is pretty much a zero percent chance that Johan is going to have the ability to make that choice.
Johan is going to write his own book. I assume if he went to the arbitration hearing, there would be a bunch of "secrets" made public that would detract from his book sales. So, he has a financial incentive to keep quiet until his tell-all book hits the shelves. I read somewhere that it is tentatively being named "Poker Face". I'm wondering if he thinks that title best describes his personality trait that made him a great team director. I can come up with a ton better titles that I think would be much more accurate, but probably should keep those to myself.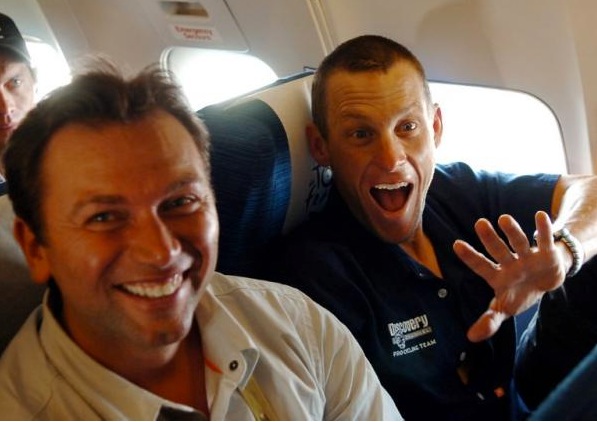 Back in the good 'ol days.