Yesterday I missed my window to ride. I thought it wasn't supposed to start raining until later in the afternoon, but it rolled in a little early. I suited up and rode over to Bill's house, only to be met by constant sprinkles. I knew there was a zero percent chance that Bill would go out, so I thought I'd just go ride an hour. But when I left his driveway, it started raining a little harder. I had nothing more than a windvest, thought maybe 5 seconds, and headed home.
I started thinking about it because I was up in Seattle last week with Catherine and realized that she is going to have to get used to riding in the rain or she's gonna be riding a trainer for the next few months. She has fenders on her Ritchey Breakaway bike now, so she is set in that respect.
I called up a friend, Todd Herriott, who runs Herriott Sports Performance. It's a bikeshop/training facility, plus he has a cycling team. They had a show and go ride last Saturday and Catherine met them to get acquainted and do a 2 hour ride. I was talking to Todd about riding in the rain and the fender etiquette-he said screw it. He said that you can show up on the rides with fenders, but it isn't mandatory. I liked his attitude.
When I was racing cyclocross Nationals in Portland, a while ago, I raced the Master's race on Thursday and was doing the Elite race on Sunday, so had a couple days to train. The course was a mucky mess, 8 inch deep mud, so there was no reason to go over there. So I decided to go out and ride on Saturday morning with my friend, Jim Thiele's bike club. It was raining pretty constantly. I was mildly surprised to see Jim and his wife Barbara start getting dressed to ride. I said something, asking if they really were going to go out and ride. They said, "Of course, if you don't ride in the rain in Portland in the winter, you wouldn't ride at all." So, I put on all the clothing I had and headed out. When we got to the meeting point, there were 20-30 riders, all standing in the rain, talking, like it was a normal sunny day. Trudi, Catherine and I were the only 3 people on the ride without fenders. I felt a little out of place, knowing I was spraying a roost over all this guys I didn't know, when they all had fenders on.
Anyway, I wouldn't call myself a fair weather rider. I ride in just about any conditions. (I'll race in any condition.) But, I don't usually get dressed up to start riding when it is raining. I'd rather go ride when it is snowing or even ice on the roads than suit up when it is wet. Staying warm training in the rain is always a challenge. I usually have the luxury to be able to schedule my day around the weather. It rarely rains all day here, so there is usually a window. When I'm somewhere I don't know the weather so well, like Belgium, I'll just get dressed and go ride, not knowing whether it is going to be wet all day or not. I don't like it, but I'll do it.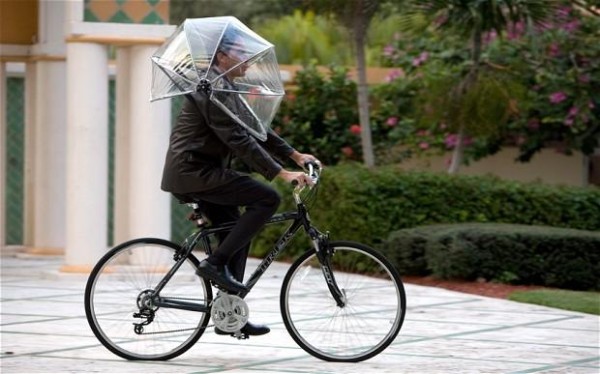 I don't really have the proper clothing to ride consistently in the wet. I'd probably have to get one of these, a Nubrella, if I was going to get serious about it.