I've addressed this before, but I really hate having a phone with me when I'm riding. Somehow, for me, it takes away some of the freedom of the adventure of a bike ride. It doesn't matter if I'm not really far from my house, all rides are somewhat of an adventure.
But, with the phone is a camera. And that, is something that I wish was around since I started riding. Photo taking shouldn't replace actual viewing, but when you have the option of both, I see no reason not to document it.
My family never really had cameras when I was young. I don't have many pictures of myself young and hardly any from when I first started racing. The only time I ever had a camera was when I started going over to Europe on the National Team. I bought a camera the first time I went and took it on most of the international trips I took. But, I didn't take the number of pictures like we do now digitally.
I keep getting the upgrades for the iPhone. I'm a big Apple fan historically. I owe the stock. That being said, for me, the main reason for the upgrade is the camera. The camera keeps getting better and better. This new iPhone 5 doesn't do such a leap in camera advancement, but it is enough. It has the ability to shoot photos in low light, ie bars, ect., has a faster turn around time between photo, you can capture a picture in a video and a few other things like panorama software. The camera is 8-megapixel front and rear, plenty for what I'm doing.
Anyway, having the camera with the phone is a trade off. I don't really like having the phone, but can't see not having the camera. Plus, having the camera connected to the phone makes exporting the pictures a snap. I guess I'll just have to put up with the phone. It was nice to be able to really "get away" when you rode. I think that might be a thing of the past.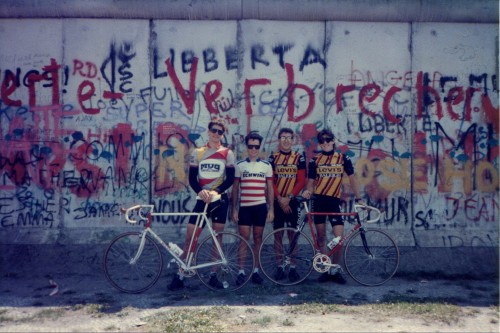 This picture is one of my favorites because of the story. Andy Paulin, Jeff Pierce, Roy Knickman and myself were racing the Tour of Berlin for the US National Team in 1985. We'd won the race and were feeling pretty good about ourselves heading over to England for the British Milk Race. We stayed in Berlin for a couple days afterwards and were sight seeing. This is before the wall had "come down". So, we rode over to the wall to see it and thought it would be a good photo. So, I go over and ask these three girls if they would take a picture of us. All three said yes, and then proceeded to use their own cameras and take photos. Upon telling them that it would be cool if they used my camera, they got embarrassed. It was a good memory from that trip.