Yesterday I was out in my garage and I heard an individual song of a bird. It sounded much more like a happy, spring bird song than the urgent, mass gathering noises of birds in fall. I was thinking about how quickly the spring and summer went and that it is nearly fall. (Tomorrow is officially the last day of summer.)
Anyway, cyclo-x is the sport of fall now if you're a bike racer. It has really surprised me how much of a hold that cross has established in the sport the last decade. I still don't think it is going to be an huge segment of the sport of bike racing, but I love it none-the-less. When I'm in good cross shape, I'm probably in better all around fitness than any other time of the season. Not necessarily able to ride my bike the fastest, but probably the closest I can say I'm am to all around good health.
I don't have a cross plan set in stone this season yet. It is amazing to think that at the end of January is when you really want to be going good for cross. That is 4 1/2 months from now. That is the same time as resetting to the end of April. It's a really long time, but the way time seems to accelerate the older I get, I'm sure it will be here in no time.
I've been wavering back and forth between disc brakes. I don't really see that much of an advantage of using them other than I wouldn't be destroying my carbon road wheels by braking in the wet and grit. I think I'd need at least 3 sets of wheels. Two race sets, plus a set of clinchers to train on. I am fairly lucky because I ride titanium frames, made by Kent Eriksen, and it is pretty easy to just have him weld rear disc mounts on. Then all I need are a couple forks, brake setups and wheels. When I put it that way, it sort of seems like a pain.
Did you get a change to catch Cross Vegas last night? Both the mens an women's races were good. Lea Davidson, who was just up at Chequamegon, was the hero of the day in the women's race. She is a very good bike rider. She was second at Chequamegon, by just a handful of seconds, after flatting early on. In Cross Vegas, she was the only women riding the stair step barrier section and put in a great attack with a couple laps to go. She got caught on the last lap, but still managed to finish 2nd, nearly catching the woman, Sanne van Paassen (Rabobank-Giant), who won. Here's a write up at CXmagazine.com
The men's race was more tactical. It came down to Jeremy Powers and Tim Johnson, ex-team mates from a couple years ago. Rob Peeters (Telenet-Fidea) crashed with 2 1/2 laps to go, as did Jonathan Page did on the barriers a couple laps earlier. Powers didn't look very good early in the race, but looked pretty great the last lap. He gaped Tim pretty easily and rode in alone. Seems like these guys are on track early for a good showing in Louisville. Brian Matter, 3rd at Chequamegon, had a pretty impressive finish at 15th. Complete men's results.
Before riding yesterday, I was mounting up fat, tubeless tires on my wheels. I've had an original set of tubeless Shimano wheels for over 10 years. I'm not sure when they first released them, but I got them a little before that. Anyway, I gave the rear wheel back to Shimano this spring because it was cracked on the rim. I figured I'd ridden it between 100,000-150,000 miles. The front seemed okay. But, no. I was inflating the tire to get the bead seated and all of a sudden, boom, latex everywhere. My ears are still ringing. The rim split and the tire blew off pretty much in my face.
After I got cleaned up and my wheels all set, I rode my cross bike to Lawrence on gravel. It is nearly 70 miles and it was 88 degrees. It isn't cross temperatures here in Kansas yet. I pretty much fell apart on the way home. The wind was blowing hard from the southwest and I was riding home west. I'm not sure I am really recovered from Chequamegon and driving yet and my chest is pretty jacked from crashing last Sunday, but even with all that, I didn't see the collapse coming. I'm not sure if I bonked or what. I crawled the last 10 miles. Maybe it was just the heat. I'm not going to dwell on it.
There are two cross races locally here this weekend in Kansas City. The way my chest feels, I doubt I'm going to race them. These ribs things are some of the most frustrating injuries to deal with. Slow healing and ever present. But, the season has hardly started, so there isn't much of a rush, it's still summer.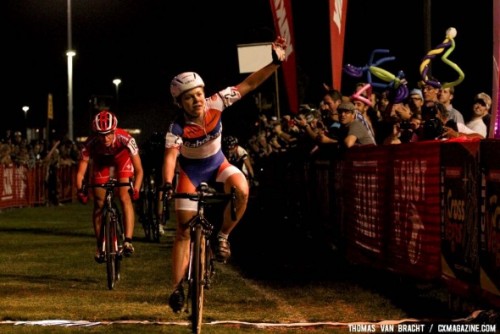 The close finish to the women's race last night in Vegas. Photo by Thmas Van Bracht/CXMagazine.com