I hate to say it, but I'm diggin' the Olympic Games more than the Tour de France. Especially this year's Tour.
I'm not sure the reason, but I am really enjoying watching all the sports this year. I've been watching rowing, volleyball, fencing, you name it, I've watched it. I'm usually not too much into watching water polo, but I watched it for 30 minutes yesterday. I'll actually watch just about anything. I tend to shy away from boxing mainly because I don't really like to see people smashing each other in the face and someone else judging them to do it. I actually have to dislike most subjective sports. By those, I mean the sports that are only judged by other humans. I might dislike them because of the scoring, but I still watch them.
The Tour de France this year was boring. Sorry, but after the fact, that is a fact. I think the cycling road race at the Olympics was just as good as any single stage of the Tour, and it had 20 stages to 1 for the Olympics. The 5 man team max made the race much better. The time trial at the Olympics was fairly predictable and moderately boring too. They need to do something to spice up the coverage some.
I've had this idea for a long time. If I had a ton of extra money laying around, I would collect Olympic medals from all the Olympic games. A gold, a silver and a bronze medal from every Olympics since 1896. It probably would have been much easier and cheaper to do when the Eastern Block was still behind the Iron Curtain. There were a lot of Olympians with multiple medals that could have used some Western currency back then. Wouldn't it be cool to have an Olympic Gold medal for the Tug of War from the 1904 Olympics in St. Louis? I think it would be great.
I've only touched a few Olympic medals in my life. Roy Knickman's bronze medal from the 1984 TTT was the first one. Let me tell you, it is a very cool thing. It must feel great having earned it. I'm sure Taylor Phinney is bummed about his two 4th place finishes this year. Both his mom and dad both have Olympic medals. He gonna have lots more chances to get one, so that is good.
Did you have a chance to catch the British Team do qualifying in the Team Pursuit? 3:52 and change for 4km. A World Record ride. It was pretty seamless. It is a beautiful thing.
I didn't realize that the Americans that win medals got paid for their medals by the US Olympic Committee. $25000 for Gold, $15000 for Silver and $10000 for Bronze. I'm not sure what I think about that. I guess it's okay, why not? I heard about it when I heard that a Senator from Florida was introducing a bill to make the $$$ tax exempt. I'm not sure what I think about that either. I guess it's okay too.
Anyway, I've really enjoyed watching the Olympics and the track and field hasn't even started. Should be fun next week.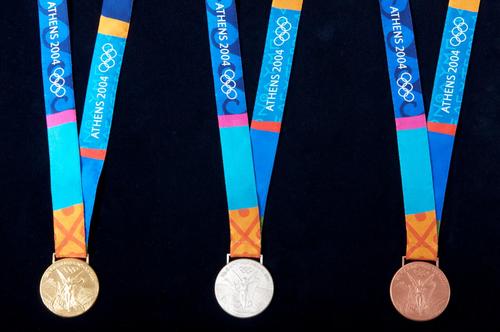 If you have an extra $25000-$35000 sitting around, you can start you medal collection right now on Ebay. These are from Athens. Extras.