I've never understood why people ride to the end of the race and don't sprint at the finish. Especially during a stage race day after day. By this, I mean riders that have an ability to sprint in a situation that suits them. I don't think that Cadel and Wiggins need to mix it up with Cavendish and Co. at the end of a field sprint. I mean stages were small groups are coming in for places 1-10. I truly understand the whole idea of trying conserve energy in a Grand Tour, but come on, one sprint/jump after 6 hours, when you've already done a ton of jumping and covering moves, can't take that much energy. The mental fun of sprinting has to offset the small physical exertion. And why not try to win a little money too. Each day there's €8,000 for the stage winner, €4,000 for second place and a decreasing scale down to €200 for 20th place. (Here's a link to the complete prize breakdown.) So, you get about $250 to roll across the line in 20th. Nothing special, but it's something.
I rode the British Milk race on a pretty star studded team the first year. It was Andy Hampsten, Alexi Grewal, Chris Carmichael, Steve Speaks, Matt Eaton and myself. Andy went on to win the Giro, the Alpe d'Huez stage of the Tour and lots of other races. Matt won the race that year. Alexi won the Olympic games. We all know Chris Carmichael. Anyway, a lot of the stages finished in sprints. Not all field sprints, but some sprints of small groups of less than 15 or 20. I finished 2nd on a couple stages that year and finished in the top 10 lots of times.
It completely amazed me when we were sprinting, I couldn't believe how perfectly positioned that Alexi was each and every sprint up until the last 300 meters and then he just pulled the plug. If I could have started the sprints where Alexi was, when I needed to sprint, I would have won a couple stages at least. And Alexi was fast. Not many people knew that, but I'd been riding with Alexi since we were young juniors. (Steve Bauer, who was super fast himself, obviously didn't know how fast Alexi was when he pulled Alexi to the finish line in the 1984 Olympic games.) He was really quick, but goofy. Goofy enough that he would duke it out to fight for position on a tricky Milk Race finish and not sprint. I'll never understand the mindset.
It is kind of refreshing seeing Cadel sprint at the end of some the stages during this year's Tour. I know he'd like to get a couple seconds here and there, but I also know that Cadel really just likes to race bikes and it is pretty cool seeing him sprint for almost no reason other than getting a stage place and win a little $$$$. It's not like Wiggins didn't have to put out just about as much energy keeping him reined in. Seems like a good trade off to me. It is bike racing.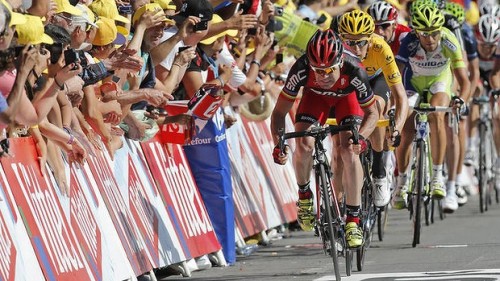 Cadel having a little fun at the end of the stage. Photo: Laurent Rebours Brisbane Times