I'm gonna ride today. I saw the Ortho doctor in Kansas City yesterday and he was great. His name is Lance Synder and he used to play football for KU. A lineman. He didn't seem anywhere nearly big enough, but said he had lost over 70 lbs. He rode bikes, has a Trek Madone, and was a great guy. He said I had a pretty big separation, but if he were me, he'd just wait it out and see how it heals. He said he can always put it back together at any time. That sounded pretty good to me, so that is what I'm going to do. He put a cortisone shot into it and said I could do just about anything I wanted to now. That was as long as the pain allowed it, which is about nothing right now.
So, I figure I can go out and ride an hour or two. I can't really imagine doing it at this moment, but I think I can work up enough energy in a couple hours.
I think the biggest problem to riding is going to be my neck. It is super stiff, nearly locked in place. I hate it when I have a hard time glancing over my shoulder looking for cars, etc. But, this is the way it is going to be for a while.
I had a few hours to blow yesterday in Kansas City before I had to pick Trudi up at the airport, so I went by the County Club Plaza and hung. Bromont and I went for a walk by the creek and then I went by the Apple Store to get my phone looked at. There were so many people in there, I thought there was a class being held, but one of the employees said it was just a normal Monday afternoon. I have Apple stock. And it's increased in price dramactically the last few months. And I'm not usually someone that tells others what to do with their money, but Apple is firing on all cylinders right now. Producing products that virtually everyone in the world wants. They are rewriting the books on stock valuation. I know it seems expensive at $600 per share, but that is just a number. Look at it as 10, $60 shares. Stop by an Apple store and see how they do business. I can't imagine what could change in the short term that would derail the upward movement of the stock, other than a World incident that puts jitters into all financial investments. Okay, enough of that.
So, I picked Trudi up. She's pretty happy to be back. She got jacked on luggage fees flying home from Switzerland. She is a Premier United member and should have gotten two free bags, but they said that they changed the program within the last month and she only got 1. So she had to pay for two extra bags coming back. She won't tell me what the charge was, so it has to be humongous. Man, airlines aren't our friends anymore.
We stopped at Freestate in Lawrence and had dinner, then walked Bromont around downtown Lawrence. He likes that street. It didn't seem like that many KU students were out and about.
I am still pretty sleepy all day, so I must of hit my head harder than I thought. (Okay I said it.) I am not sleeping the best, so that too could also have something to do with it. I'm feeling pretty optimistic about the recovery right now obviously. I don't know what that is, but I don't see any downside to it. I'll see how the ride goes today.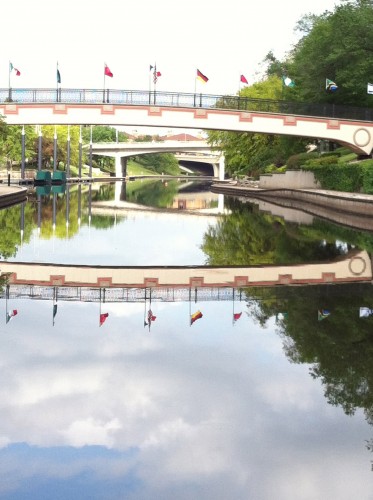 This is a photo I took walking with Bromont down by Brush Creek.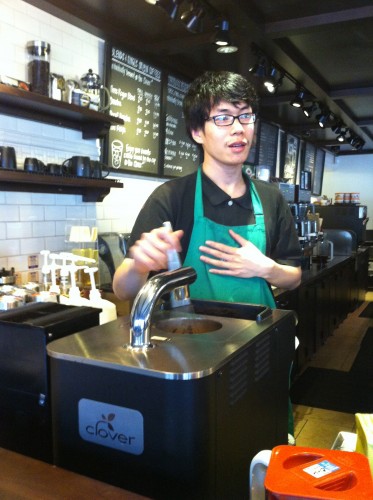 Clover machine, that makes individual cups of high end coffee. I have to admit, it was pretty good.