I finally got around to putting that $15 spoke into the Shimano tubeless wheel. I've had a handmade truing stand since I was a junior. A local guy from Nebraska, Fred Galata, made it back in the late 70's I guess. It is made of aluminum and machined to perfection.
I'd seen the stands before and finally told Fred that I'd take one. I don't remember how much it was, but Fred brought it down to a race in Oklahoma, maybe Talimena, and the four of us from Kansas had to scrape every penny together we had to buy it. We were driving back North, up by Bartlesville, OK around midnight. I was driving, going pretty fast. I hadn't seen another car for a while and of course, with my luck it was a cop. He did a U-turn and pulled us over.
He said that we had to pay him $30 on the spot or he was going to arrest me. I told him that we didn't have any money at all. That we'd just bought a truing stand at a bike race and only had the tank of gas in the car to get back. He asked again if we didn't have $30 between the 4 of us. I told him no. He then told me to step out or the car. He proceeded to hand cuff me. He said he'd give me one more chance to pay. I told him we would gladly pay him, but we didn't have any money at all.
So, he put me into the front seat of his car and proceeded to drive the 20 miles back to Bartlesville at 100 mph. Kris and the other two guys I was with thought it was some kind of trick, so they didn't follow us because he was going so fast.
We we got to the station and he handed me over to another officer. That guy took me back into the jail to lock me up. He unlocked the cell where there was a guy laying on the floor vomiting. He said something about the guy drinking Drano when he went to the bathroom. I told the officer that I didn't want to get into the cell with him. That I had been speeding, but it didn't seem like I should be thrown into jail with a guy that is puking. The officer that brought me in heard our whole conversation and told the other officer that I seemed like an okay kid and maybe he should just lock me to the bench in the waiting area. So that is what they did.
Within 15 minutes this guy comes into the station and they tell me he is a bail bondsman. I didn't know what that was, but he explained that he could pay the police the money and they would release me. But, I had to pay him $100 for him to pay my $30. I told him that seemed unfair and that I could send him the money when I got home tomorrow. He pretty much said, take it or leave it. I took it. The whole thing took maybe an hour. By the time we were done, around 2 am, my guys had finally found where I was. They had driven around town for an hour trying to figure out where I was. The bail guy wanted one of our bikes as collateral for his bond. I told him that was ridiculous and asked him how were we supposed to get it back after we sent him the money. He probably recognized who we were, young, honest kids, because he didn't really push it. We got home that night right when the sun was rising.
I sent the bail man the money the next day. I think I got it from my dad, because I wouldn't of had it. He usually wouldn't of had it either, but we came up with it somehow. I always think of that story whenever I'm using that truing stand.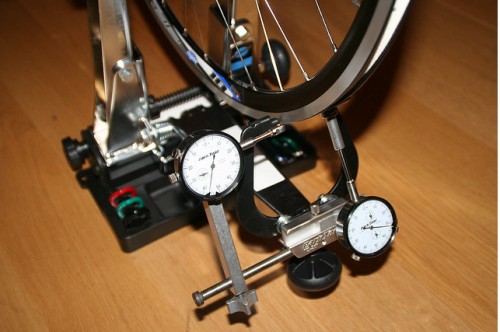 The dream stand. I'm not sure why I don't have a Park TS- 2.2 stand like this by now? Huh, Calvin?