Yesterday I went ahead and entered the Lago Vista Races both days. I had considered racing the MTB race outside Austin, but that didn't seem too bright. I plan to do some real MTB racing this season, but since I haven't been feeling all that great, plus, I haven't ridden a MTB in a few months, I thought it would probably be better to race on the road.
I like the Lago Vista races. The course is around a 6 mile loop that they run in both directions (one direction each day). Sunday's race, counter clockwise, is a much harder course than Saturday's. Last year I was 4th on Sunday. Kind of the last man standing. The climb is pretty severe on Sunday. I like steeper climbing normally.
Riding around here is pretty user friendly. It isn't as good as San Diego, mainly because of limited choices and traffic. But, that being said, it is pretty easy to get in pretty good miles that seem to go by quickly. Austin is a great town. The people here are super interesting. The restaurant selection is maybe the best in the country. That goes for the music selection too. But, there isn't anywhere near enough water around. And it is super hot for months during the summer.
Did you see they awarded Austin the Cyclo-X Nationals in 2015. Next year it is in Madison again. Then Boulder in 2014, then Austin. I rode through Zilker Park today and was wondering where exactly they are planning to put the race. It doesn't seem like there is much terrain change there, but I'm sure it will be an excellent race. In 2016 the race in in Ashville, NC. at the Biltmore Estates. The last time I raced a race there I won, but that was a really long time ago. Those 3 towns are 3 great US cities. I think it is important to put National Championships in cities that are fun to visit. So, USAC did a pretty good job of doing that this time around. I don't see a problem with not giving a city the race for 2 consecutive years like they have been doing most of the last decade.
I'm heading back up to Kansas after this weekend. There are good races in Tulsa next weekend and then in Arkansas the week after. It is pretty amazing how short the winter seems when you do cross until mid-January. The average high temperatures in Topeka are in the mid 50's early March to the lower 60's at the end of the month, so it is pretty user friendly for riding. I really wasn't that into winter this year, so I am glad it is nearly over. I guess that is the what most cyclists think, I hope.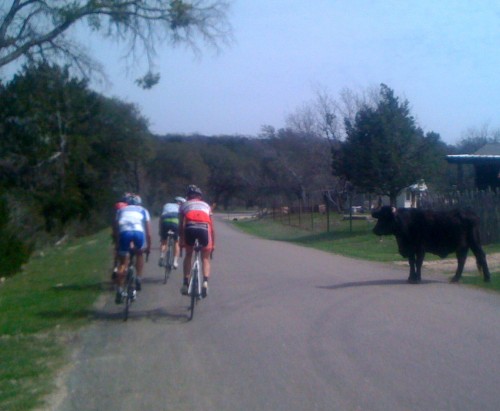 Stefan, since he was wearing red, was pissing this guy off a little on our long ride on Wednesday.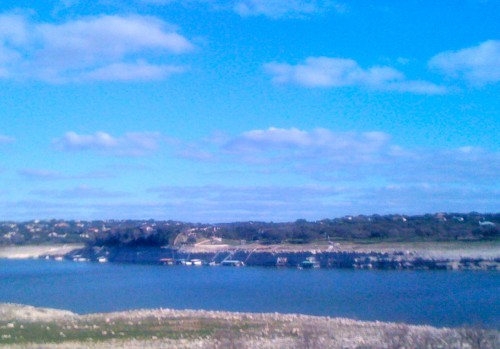 This is a photo of Lake Travis from the Pace Bend race last Sunday. It is nearly 40 feet low. Low enough that they aren't going to drain it anymore to flood the rice fields . Rice in Texas, go figure.