I don't know if you got a chance to watch the U23 Worlds this morning, but if you didn't you missed a very good bicycle race. I'm still not big on the course. There aren't that many places in the world where we race 1/4 of a race in sand. The single line in the sand makes the start much too important. But that is cross.
I've been looking for the video of the last lap, but haven't located it yet. The last lap was crazy exciting. 2 Dutch riders and 1 Belgian. From watching on the computer, the Belgium guy, Wietse Bosmans couldn't have done anything more to lose the race. He didn't lead into the sand section he was gapping the two Dutch riders on. And then within a stone throw of the finish, when the defending U23 Champion, Lars Van Der Haar, dabbed, Bosmans made the pass when Lars was dismounted and then didn't attack. He looked back a couple times and sort of waited for Lars to catch back on. He then just let the Dutchman pass him 50 meters before the final corner, less than 200 meters from the finish. He got smoked in the sprint. It was 45 seconds that Wieste is going to remember for a very long time. I feel bad for him.
I wonder how thrilled Bart Wellens is going to be watching the cross worlds tomorrow. He had his house raided looking for drugs last week, but the authorities only took his computer. He's been under investigation since before his near death experience before the Belgium Nationals a couple weeks ago. He says he's not stressed about it. The original cause of the liver, heart, kidney failure was "clearly due to a bacterial viral infection" according to his personal doctor, Peter T. Seyen, said after the scare. Now the answer is that he had a tooth ache. I love it when the explanations just keep coming and changing. I'm lucky I didn't spend a week in intensive care for my tooth the last month. You know those Belgians and their teeth. Sounds pretty plausible to me. If it doesn't to you, then go with the viral infection explanation.
Tomorrow's race is going to be great. I assume that Marianne Vos is going to win the women's race easily. She has made that last few races look like child's play. The Elite men are a different story. Like I stated above, the start is going to be crucial. I think that it is going to between the 4 guys that have won nearly every race this year. Dah. I am having a hard time choosing between Stybar and Albert. I would like to see Nys win, but he doesn't have such a good record at the end of January. And Kevin Pauwels just isn't World Champion material yet. He'll have a good race, but he doesn't ride with passion in my opinion. So, I'm going to go with Albert, then Stybar, Nys, then Rob Peters. I think Albert is the best in the sand when he has power. Stybar is going to be motivated, but it is in Belgium. Okay, we'll see tomorrow. Don't miss it. Cyclingfans.com is the link. Women at 4 am CST and Men at 8 am CST.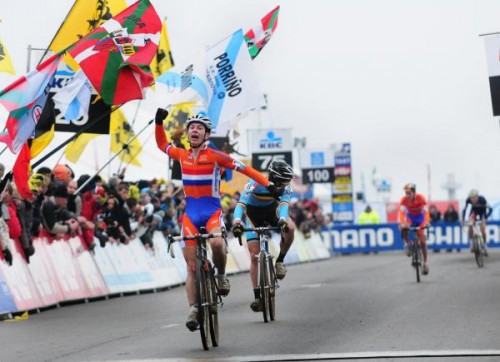 Lars Van Der Haar winning over Wietse Bosmans in U23 Worlds.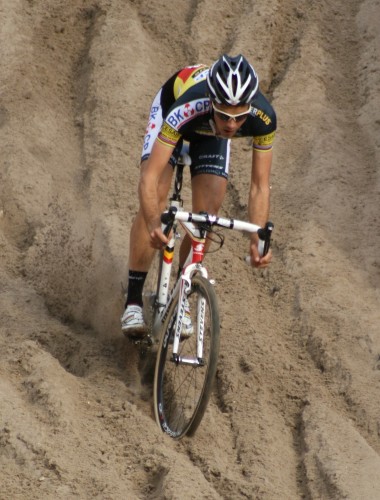 My pick for tomorrow, Niels Albert, doing his thing in the sand.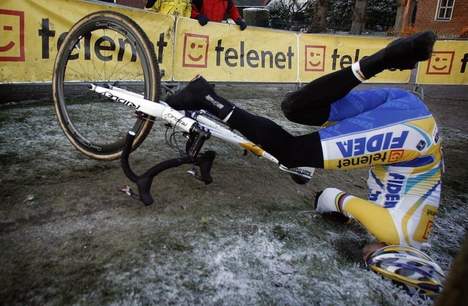 Bart bounced back from this crash but not so fast from a bad tooth. He does have 31% liver function now though.