Yesterday was a good day. The weather this winter has been stellar. It was nearly 60 degrees yesterday, but the wind was whipping. Bill, Catherine and I decided to go ride MTB. This was the third day in a row for me on my MTB and I was just finally starting to get my bike handling back. Anyway, we all overdressed and had to start stripping clothing off nearly as soon as we clipped in. When we go over to the trail, the ground had thawed and there was a thin layer of mud on top of the dirt. We decided to go out and do gravel roads instead of slipping around in the woods. I had been feeling pretty tired this past week, but had been good riding MTB bikes. Yesterday was a struggle riding out west in the hills with so much wind in our faces all day.
Then last night, my TradeWind Energy team had a party for me in Lawrence. It was nice. My friend and sponsor, Matt Gilhousen invited us over to his new house, nearly on the KU campus for some homemade pizza and comradery. It was fun. I hadn't seen most these guys for the past month, so it was nice catching up. Brian is getting all antsy about racing and is talking about going down to Texas to race soon. A month ago he said he was super out of shape, but like I said above, the weather has been great recently, so he must be feeling better, or just more confident. Either way, it was a surprise everyone was so ready to pin on numbers.
It is supposed to be nearly 50 for a high most of this week. I have to finish up putting a rubber roof on a friends porch this week. The limiting factor is the temperature for the glue to flash off to adhere the rubber to the insulation. It looks good for a window sometime mid week, so I need to get on it. There is a ton of lifting and ladder scaling involved, so maybe I'll just skip trying to get into the gym this week, like I had planned the last month.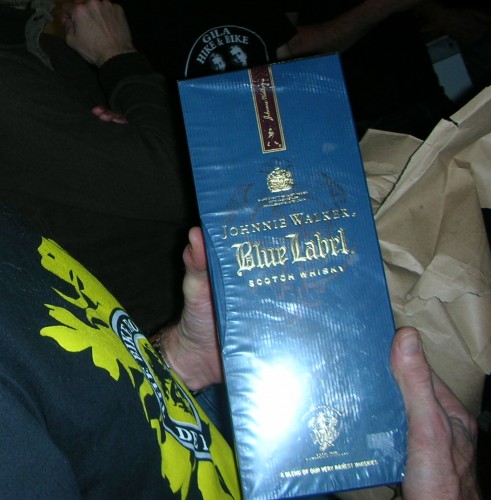 Matt presented me with this bottle of Johnny Walker Blue Label Scotch Whiskey. I'm not too much into liquor, but this is the about the finest of the fine in whiskey.