I am getting on a plane in a couple hours and flying out to San Diego. I have a few things I need to do out in Southern California and there are a couple cyclo-x races this weekend in the San Diego area, so I thought I might as well go out there a couple days early.
I've packed a bicycle for flying 100's, if not 1000's of times. I don't use a hard case. Hard cases are a hassle. Especially if more than one rider is being picked up or getting in the same rental car.
When I first started racing, there wasn't such a thing as a hard case. Just thin, nylon bags. The bags got thicker and eventually came with wheels. The first time I went to Europe I was so surprised that the European riders just took off their pedals and turned their handlebars sideways and gave their bikes to the airlines to ship. I thought how easy it would be to always only have to do that. But, in those days, not many riders in Europe flew..
I use old Athalon bags I got when I rode for the Levi's team. I've put new super heavy duty zippers into them and they are nearly bomb proof. Like I said above, I've flew tons and have only had my bike dinged maybe twice. A couple wheels out of true, but nothing too major. When you pack the wheels on the outside of the frame, they act as paddling and it seems to work pretty well. I've had as many a 3 complete bikes in one bag, still under the 50 lb limit if I stick some pedals and seats in my checked luggage. I commonly fly with two cross bikes, plus extra wheels in one bag. With bike charges going insane, it is mandatory.
Ned was the first guy I ran into that used a hard case. It was such a hassle. In Europe, we had to rent a utility van for Trudi, Moser (mechanic), Ned and I, plus Ned's fiberglass bike case. It was like having another bike along. A nylon bag folds up and can be used as padding when you pack your bikes into a car. Ned's case was beyond cumbersome.
So, one early season trip, we were staying outside Madrid, Spain, and Ned had put his hard case out on the balcony. We were staying pretty high in the hotel, probably over 10 stories. So, Moser and I are on the balcony talking about what a hassle Ned's case is and somehow it is decided that we should just throw it off the balcony onto the pavement of the parking lot below, to help Ned get of the "professional program". Ned is sitting in the hotel room in full view of us. So, I'm not sure who did it, but one of us picked up the case and tossed it over the railing. Ned was on the balcony looking down before it hit the ground. It didn't quite explode, but was definitely hurt pretty badly. I don't remember Ned's response. I'm not sure I've even seen him get crazy upset. But Ned does go down and drag the case back up to the room.
After the race, we were staying a couple more days before heading to Italy or somewhere and we go out shopping. Ned comes back with this sheet of fiberglass and some resin and proceeds to patch his case back together. It was quite a production and super smelly. I was beyond amused watching the process. I bet he still has that case.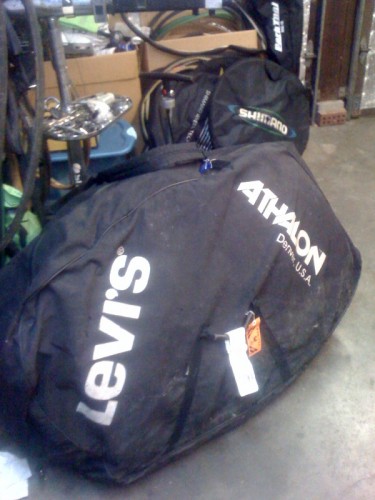 I used to be able to sometimes get out of the bike charge by saying it was a Levi's display.