Less than two weeks to the official first day of Spring. I can't decide if the winter went quickly or slowly. Maybe it just went. I usually try to take advantage of cool temperatures and left over cyclo-x form to get some results early season. I don't think that is going to work so well this year. I still have a bunch of stuff in my lungs. They just started burning here in Kansas, so the air isn't going to be conducive for breathing. And I do a lot of that.
I'm still kicking around maybe going up and ski for a few days before Redlands. Dennis has always told me the best time to ski in Cable is after the Birkie. Perfect corduroy, with not a track on it sometimes. I'm not really training for bike racing anyway. I'm just riding. And not very far at that. I guess there is a 200 km day at Redlands this year. They haven't really shown an official schedule, so I don't really know. I usually don't have much of a problem with distance. Only if it's hot. Which seems to bring on cramps more often. But, that isn't a given.
It is supposed to be nearly 60 here today. Riding yesterday in the 30's seemed like riding when it was 15 degrees a month ago. I'm not sure what your body does to acclimate to the heat or to cold temperatures, but whatever mine did, it made me not used to it. It is mainly the wind though. It's always windy in Kansas. Especially the Spring. Yesterday, it wasn't that windy, but it was probably blowing around 15 or so.
KU is playing in the Big 12 tournament today thru Saturday (hopefully). They are ranked #2 in the country, so if they get to the finals, that should be enough for them to be a #1 seed in the NCAA. I have to ride around the games. That isn't going to be such a hard thing to do. It isn't like I'm spending all day on my bike or anything.
Okay. Just rambling. I can go down to Tulsa and do a couple races this weekend or stay here and ride a local race at Lake Perry. Riding here is good training since I can just ride the hour to the race, then race and ride home. If I go the long way, it is nearly 100 miles. But, I like the races in Oklahoma. Pretty hard courses and the guys down there race hard. I'll see how I feel tomorrow.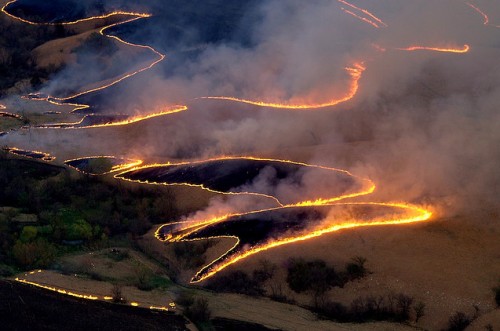 Burning has already started in the Flint Hills.