I'm not sure where the time on Wednesday night went. I was planning on finishing the brakes lines and drive the van down here. I'd went to the junk yard earlier in the day and scored the exact lines without much effort. I took the rust off them and recoated them with some rust proofing stuff. I had to lower the gas tank. Whatever. The short of it was I was doing it until after midnight. When I finished I decided that I shouldn't drive it down here just 5 hours later, so I went and got the diesel van and that was that.
So I started packing at around 1 or 2 am. I don't have a road bike together yet. I knew it was bad when I couldn't recognize my road shoes. I haven't ridden in my road shoes since the end of November. Wow, that is nuts. I have a new pair of Shimano shoes to put cleats on. I might as well start riding them now. I had 'cross tires glued onto my carbon wheels. Road parts on 'cross bikes. A mess. So, I brought both my cross bikes, my MTB and then my road frame with a few parts. Should be together by next weekend as I seem to be in sloth mode in every other aspect of my life.
The drive went great, other than I was beat. I sold a bunch of silver bars last week on the internet, to some guy in Edmond, OK, so I had to make a quick stop and deliver them. It was 1% of the value to ship them insured by the USPS. That is nuts. Do you think they loose or break anywhere near that percentage of packages they ship? I have only had one package I've ever shipped with the postal service lost. It was a drag.
So, we got down to Austin nearly early enough to miss all the commuting traffic, but just not quite. One major drag with this city is traffic. I'm staying down South with my friend George this week. We got into Austin by 4, but then it wasn't possible to move South anymore. So, Bill and I just parked down by the river and went for an hour ride. It was great to ride some. We got back to the car and took Bromont for a run and let him swim some.
I took the wheels I brought to the expo center to give to Kent's guys. By then, which was 7pm, the traffic had thinned out enough to get to George's without much delay. I have no patience for traffic jams. I know that. I'd rather just go somewhere to wait and drive later.
We hadn't really eaten all day. I started feeling pretty shitty. More than usual that is. George took us to eat at Mandola's. It is fun Italian. I was not feeling that great, but the food helped. I had a Shiner Bock just to get into the Texas rhythm.
I slept 11 hours last night. I feel just so/so today. Pretty bad if I'm being honest. I'm going to the Handmade Show this morning and then riding this afternoon. It is supposed to be near 80. It sucks feeling bad when the weather is awesome. But, it snowed 6 inches in Topeka yesterday, so it would suck feeling bad there too. As an athlete, being sick is a drag.
Hopefully, by the afternoon, when I get some coffee in me, I'll have more energy and have seen some unbelievable artistry at the bike show.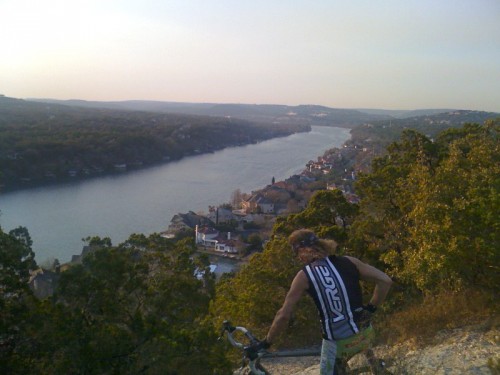 Looking off Mt. Bonnell near sunset.