I have a stat counter on my blog and it shows where everyone clicks on links to go elsewhere. I've noticed that Alexi's blog gets a lot of clicks from my link, so obviously he is pretty interesting. And he is pretty interesting.
I've been trying to spend less time on the computer, but since I've been sick, I haven't had much energy to do anything physical, so it seems I'm more time on the computer. I hadn't read Alexi's blog for a while. If you haven't had a chance to check it out, you should… click here.
Seems he finally got a real bike. And has a race schedule planned. That is more than I have so far this year, so he's way ahead of me. Maybe he has more motivation that me. I hope not, but maybe so.
I have no idea who Alexi is going to be riding for. Probably bouncing on and off different teams because most of the races he listed, you have to be on a team to enter.
I put my name in the hat for Redland's this year. I haven't done it the past two seasons and decided that I need to get out of the rut I'm in and switch it up some. I told Ned I was going to ride Sea Otter. The MTB race. We'll see how that goes. I'd need a new MTB before that would happen.
Alexi stated he was going to be doing Redland's. It's a little longer this year. Maybe by a day. It sort of went from a Tuesday through Sunday race to just a weekend event. It looks like it is going to be a little longer this year.
Anyway, it should be interesting racing with Alexi after he has a few races under his belt. It worries me a little that he is calling this reentry into bicycle racing "1000 days of prison". I think of it as just the opposite. Wouldn't we all be hardened criminals if bicycle racing was prison??? I would.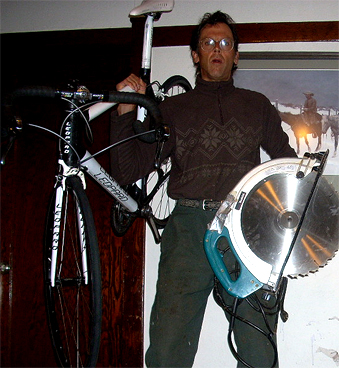 I stole this photo off his blog. Alexi and his timber framing saw. Both of these "tools" are dangerous. I'm not sure which is more so.