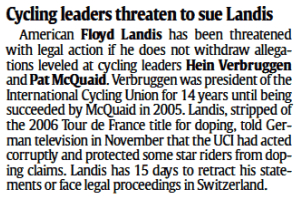 I grabbed this off the USA Today online this morning. I saw in Cyclingnews, a few days ago, that the UCI was threatening to sue Floyd, but didn't really pay much attention to it. But, here is an article in USA Today about it. They gave about the same amount of space to this as to Lance retiring yesterday.
Here is the article from Cyclingnews. The link at the bottom of the article is interesting. It just goes to another article that shows that the UCI can be subjective in their punishment. I am pretty positive that most people agree that doping infractions should not be subjective.
I'd like to see this lawsuit filed. It's too bad that it sounds like it would be in Switzerland. I would be better for Floyd if it were to be held in the US. Better and worse I guess. I doubt Floyd would defend himself in Switzerland. It would just be another one of those countries that he can't go to. But, if it were to be held in the US, that would be interesting.
Interesting enough that if Floyd did a public outcry for help for his legal defense, again, I'd consider giving. I'd like to see all the evidence thrown out there in a court of law. I doubt we'll see much of this federal investigation go public. I'd bet it just gets buried or settled somehow.