When I'm not racing, it is nearly impossible for me to keep track of what day of the week it is. I know that sounds stupid, but it is true. This morning, I guess, we're supposed to meet up with some guys for a 100 mile ride up towards Lake Superior. It was nearly in the 40's last night. I had to sleep under a down quilt.
I'm not sure when I'm going to race again. Pretty soon I think. I'm kind of apprehensive about it right now. Like I haven't raced in so long I have no race gauge to go by. If I go by my training gauge, it is going to be pretty ugly.
Here are some photos of the last couple days.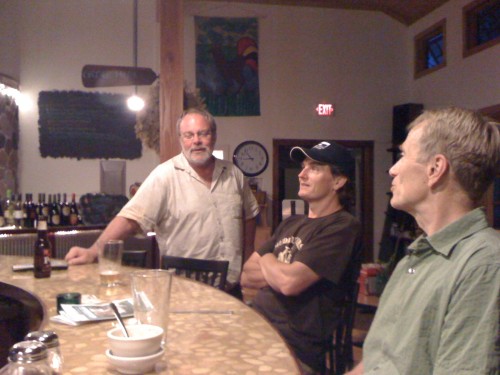 We've been eating over at the River's Eatery/Ideal Market and hanging there late. Here is Gary Crandell (Mr. Chequamegon, Mick, owner, and Dennis.