Monthly Archives:
July 2008
This entry was posted in Racing on .
This entry was posted in Racing on .
OK. I'm a couple weeks behind again. But, I need to stick to the chronological order thing I suppose. So, I'll try to play catch up. Went up to Omaha for a couple criteriums. The guys up there always find fun, technical courses to ride, so I try to get up there whenever I'm around the midwest. I'm not sure what the deal was, but there were less than 20 starters in the 1-2 race on Saturday and Sunday. Whatever the reason was, I wasn't into it at all. We had 7 guys there and that isn't fun bike racing for anyone. But, it was. At least for me. It is very rarely in this sport that I am pretty surprised. But, Saturday was one of those days. I had finally felt OK riding for a couple days and was looking forward to riding hard. With the majority of the field riding on my team, I wasn't sure how it was going to play out. It played out strange. I got into a break immediately with Alex Boyd. Local Omaha guy that is national level. National Collegiate Road Champion a couple times and a good rider all around. Then Bill, Shad and Chris eventually showed up. That is 4 of us, 1 of him. Anyway, the photo below shows the outcome. I could go into a long process how that came to be, but the real answer was that he was riding the best. Maybe, by miles. I'm not sure still. But, I'm still amazed. As a rider, this is a photo that you never want taken.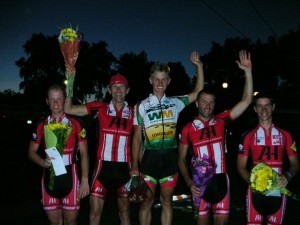 Sunday was a do over. I don't think anyone was looking forward to it. It was pretty hot and a pretty hard course. It went pretty much from the gun. Then Alex managed to throw himself onto the ground in a sketchy corner. He took a free lap, but I think he had enough of the jumpfest, so finally let me go. Sundays photos are better from my perspective, but he had the better weekend by far. Up at Superweek now. Update tomorrow. Oh, sure!
I've been kind of just hanging around the last couple weeks.  Trying to get going good and catch up on some stuff I put off from travel.  Like hanging some drywall, prunning trees, giving blood ect.  Recovery type stuff!  I've been riding abit better in training, so maybe things are going to be OK for the last half of the season.  It's always nice to have the Tour on live in the morning over breakfast.
I went to the doctor a couple times.  Had a blood test.   I waited over an hour for a 4 minute draw.  They are way more interested in your drivers license/insurance card/bank account statement/prize winnings than actually helping you medically.  It's amazing how much blood they take.  I thought they took too much, then they took more.  I said to the guy, "do you actually use all the blood?"  he said no.  I said, "shit, I need that blood, can I have it back?"  He didn't reply.
There have been a ton of turtles on the roads this year.  Maybe because of all the rain, but I can't swear that is the reason.  I have serious personal rules about encountering turtles when riding. I've seen way too many squished in my lifetime to ignore them.   The short list-always move turtles out of the road when training.  Especially box or green turtles.  It OK just to kick a snapping turtle off the road.  I actually don't mind seeing snapping turtles not make it across the road.  I hate them. They are super mean.   But, if they are alive when you come upon them, then you have an obligation to move them.  Moving turtles when racing is a different matter.  You have to use common sense to decide if you have enough time to spare.  Or enough energy to catch back on, depending on the situation.  I've moved a lot of turtles during races.  Most the time everyone will wait for me.  It's better to be in a break.  Trudi moved a turtle during a time trial last Monday.  She didn't get her time back though. Bad call by the timers.
I raced twice in Nebraska this past weekend.  I'll post the results later today.